How Heavy Machinery Customers Have Full Visibility into Our Inventory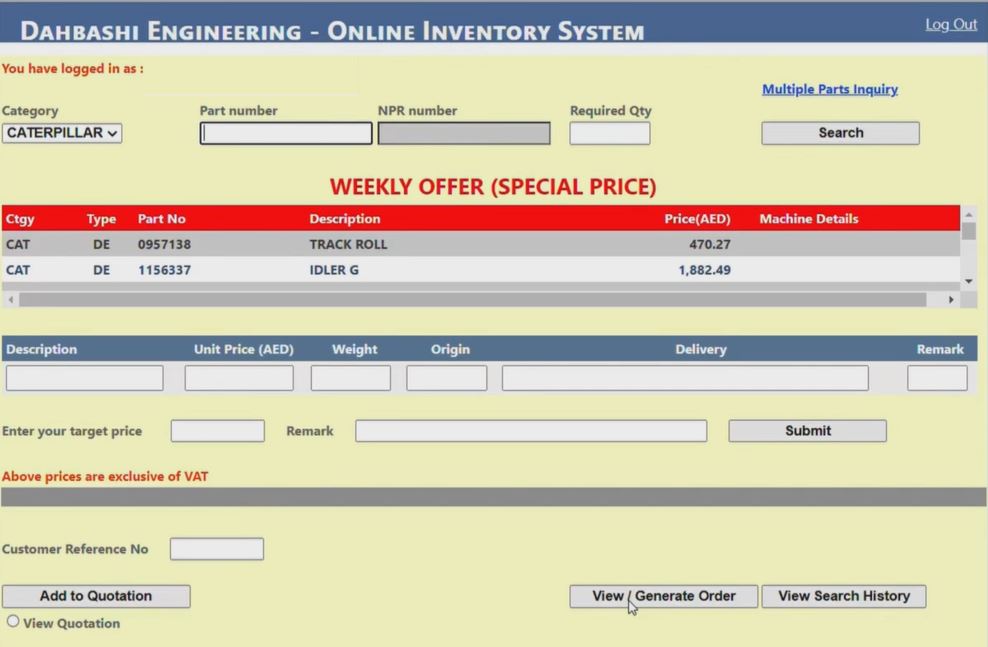 At Dahbashi, we give our heavy machinery customers round-the-clock visibility into our real-time inventory. Watch this video for an exclusive insight into our online inventory portal.
If you'd like access to this innovative online system, contact us today.
Video Transcript
At Dahbashi, we are committed to reducing machine downtime for our customers and improving their efficiency. Our online inventory portal is designed to give customers the transparency they need into our extensive inventory of alternate spare parts so they can see availability and request a quote at the click of a button.
As a customer, you access our system through your individual login and this pulls up a screen which at first glance, gives you exclusive insight into any special offers we currently have on our spare parts. You can query any part by its part number – either a single part or more commonly, a list of multiple parts that can be pasted in or uploaded as a file.
The search results give you visibility into our real-time inventory, 24 hours a day, 7 days a week, 365 days a year, to plan your servicing and repairs of your machines. All the information about the parts you need is at your fingertips: our available stock across our branches, the price, the weight of the part and any information on superseded part numbers by the OEM.
Here At Dahbashi we're continuing to invest in this innovative system so that you can share save time sending enquiries and waiting on quotes from suppliers. Generating a quote, or converting a quote to an order, is as easy as a click.