Modification of Kawasaki 95Ziv Wheel Dozer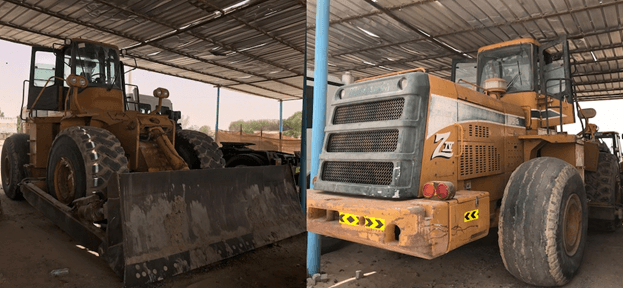 Al Ghayoum Contracting & General Transport Establishment is a trusted name in the Abu Dhabi western region. They specialize in oil field construction activities, equipment & vehicles hiring, earthmoving & survey works. Established in 1992, the company's 26 years of business has seen it involved in high value projects with oil & gas contractors such as ADCO, GASCO, TAKREER, NDC and the western region municipality.
On one of our field visits, Mr. Ahmedou Ould Amouye (Maintenance/Purchase Manager) requested us to assist with supplying parts for one of their Kawasaki Wheel Dozer 95Ziv. Since Kawasaki spares are not our regular product line, we decided to explore and provide an alternate solution by transplanting a good used CAT engine and transmission in the Kawasaki Wheel Dozer in place of its existing Kawasaki engine and transmission.
The idea in theory appeared to be the best solution but there were considerable challenges. One of the major challenges was to convince the customer on this novel idea keeping in mind his expectations about the reliability of the solution, especially since he is a sub-contractor to ADCO and untimely break down of the machine could lead to serious issues. The other challenge was to look into the micro details of the modification that would be required for hydraulic and transmission oil line and transmission control to existing valves on the machine. This was akin to performing a heart transplant on the machine!
We gathered information on the parts required and subsequently obtained approval to order: engine spares & transmission kits, hydraulic & transmission pump and injectors. The client was given critical technical guidance to enable them to smoothly perform jobs such as assembly of fuel lines, adjustment of pressure, torque, rotation of pumps and electrical symmetric diagram for AC.
The work was successfully accomplished at the client's in-house workshop and the equipment has since completed approximately 300 hours of service hours at a daily average of 8 hours.

We thanked the client for placing their trust in DE and giving us a chance to serve them. Special thanks are also due to Mustafa Selvawala, Zaheer and William. While Mustafa was responsible for escalating the client's requirements and enabling us to provide rapid and flawless service support, Zaheer and William ensured that the job was completed efficiently in their capacity as technicians.
By Sandeep Mahaveer Vaishnav, Abu Dhabi Branch