Our Range of Solutions
We offer leading brands in traction batteries to power your forklifts, warehousing lift trucks, reach trucks and more across a range of Materials Handling, Marine and Leisure applications.
HOPPECKE trak® Uplift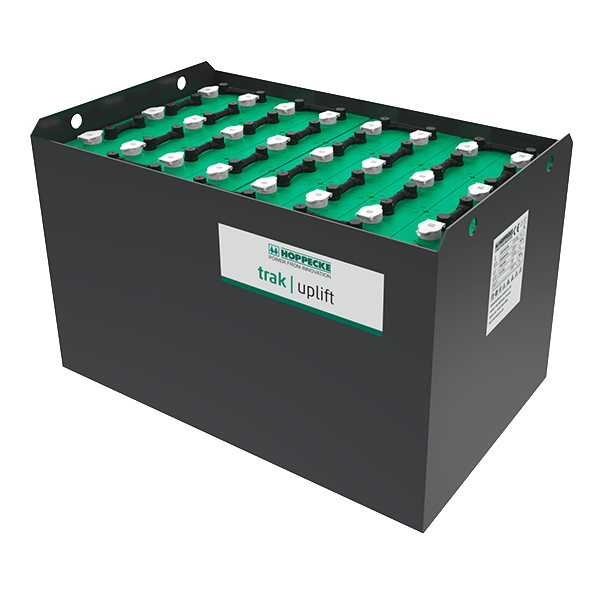 If you wish to minimise investment costs and optimally utilise your budget, but also want to use top quality motive power batteries, our trak | uplift batteries are your optimal solution.
The heart of all trak | uplift batteries is the new Active Carbon. Precisely matched active materials enable higher current discharge characteristics as well as improved fast charging capability. In combination with the optimised active area ratio of the new 3D Enhanced Electrode Design, Active Carbon ensures increased service life for cyclic applications. In single shift operation trak | uplift batteries demonstrate their durability and economy. The Protective Shell Separator effectively protects against short circuits as a result of deposits of free active material on the negative electrode. A pole feed-through with a labyrinth system specially developed for the daily requirements of industrial trucks withstands even the highest mechanical strains and ensures reliable operation and reduced maintenance. The trak | uplift battery is now available as a cost-optimised basic solution which is designed so that additional components such as trak | air electrolyte circulation can be retrofitted at any time. Customised or vehicle-specific adaptations are of course possible at any time.
HOPPECKE trak® Uplift Air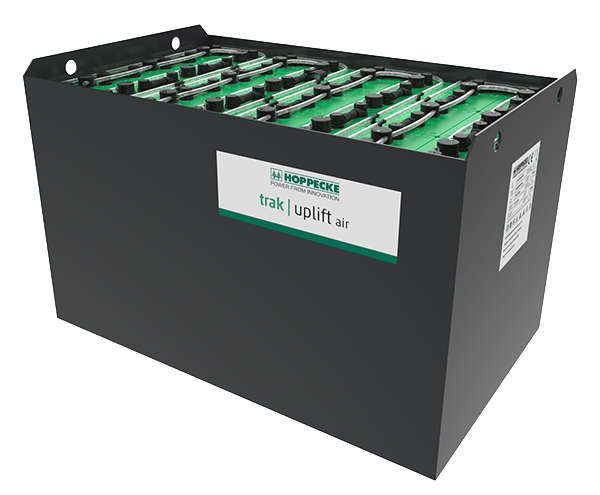 Upgrade your trak | uplift battery with high quality trak | air components and profit from many benefits such as lower energy and water top-up costs with ultimate battery availability through reduced charging times.
HOPPECKE trak | air electrolyte circulation prevents acid layering by means of blown in air. In comparison with other mixing methods this has the highest level of effectiveness with the least load on the plate set and eliminates potentially necessary weekend equalisation charges. For you, this means that fewer replacement batteries are needed, and the general extension service life is extended. As intensive overcharging is no longer necessary with trak | uplift air the cycle lifespan is also increased. Due to the significant reduction of energy consumption you save money in operation and also ensure a higher availability of your battery system. This reduces downtimes, so that you can plan your logistics better. In combination with a HOPPECKE charger, the batteries are charged gently and efficiently. The charger detects excess or low pressure in the air supply and automatically switches to an alternative charging mode as necessary. Together with the possibility of rapid charging for demanding 24/5 shift operation this results in the fail-proof trak | air control concept.
HOPPECKE trak® Save & Save+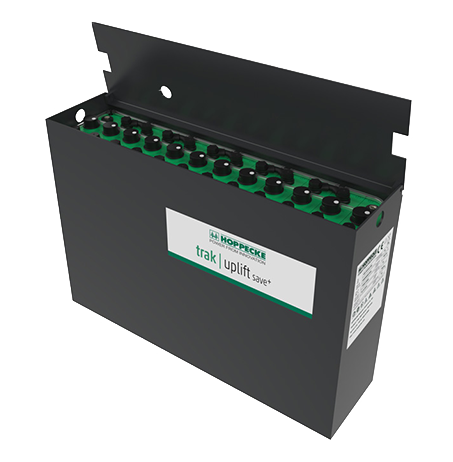 Enclosed in the extremely tough and durable Full Protection Tray with closed cover, the all new trak | uplift save+ provides an optimal protection against external influences and is therefore ideal for use in especially dirty environments.
Clean Surface Technology – a combination of Duro-Pol and Full Protection Tray – prevents leakage currents due to conductive contamination of the surface with dirt or electrolyte residues. In combination with a trak | charger HF premium you achieve the highest level of protection of your investment and further reduce both general costs as well as annual maintenance costs in comparison with trak | uplift save.
HOPPECKE trak® fnc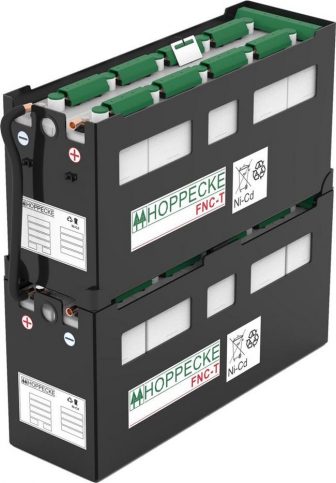 If you want to use vehicles 24/7 without changing the battery, then the HOPPECKE trak | fnc is the perfect solution for you thanks to the opportunity charging technology and high-current capability.
The advantages offered by the trak | fnc become fully apparent in companies that operate or produce around the clock.
The special properties of this alkaline battery mean that battery changing is not required. The vehicle and battery can be used 24 hours a day by taking advantages of daily work breaks for opportunity charging. At the same time, virtually 100% availability of your vehicles enables you to optimise your vehicle fleet size.
The extremely high mechanical stability of trak | fnc batteries provides long-term resistance to vibrations and rough handling. The electrode material has withstood shock tests of up to 30g* (*g = acceleration due to gravity at the Earth's surface of 9.80 m/s²). The robust design of the cell ensures absolutely reliable energy storage, even under the most severe operating conditions. The reduced sensitivity of the FNC battery to external factors (e.g. low temperatures) or improper handling almost entirely rules out the risk of a sudden battery failure.
A battery control unit that was designed by HOPPECKE especially for this system provides the driver with information about the availability of their vehicle, the battery capacity and the charging current at all times. A charging schedule is calculated based on the usage profile of the vehicle, so that the normal daily sequence of operations is not interrupted by unforeseen opportunity charging. In addition, the battery monitoring unit has the additional task of countering any improper use by drawing the driver's attention to the need for charging by stopping lifting movement. Other functions such as recording operating hours or energy balancing are also integrated and round off the system.
HOPPECKE trak® powerpack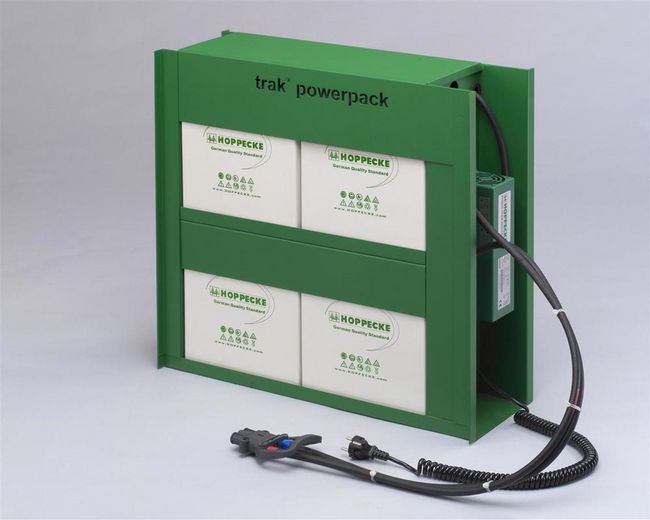 The trak | powerpack system has been designed especially for portable electric pallet trucks. It comprises four HOPPECKE trak | bloc maintenance-free AGM monobloc batteries connected in series, which are installed in a self-supporting tray. On request, the trak | powerpack system can be delivered with an optimised on-board HF charger.
HOPPECKE trak® uplift IQ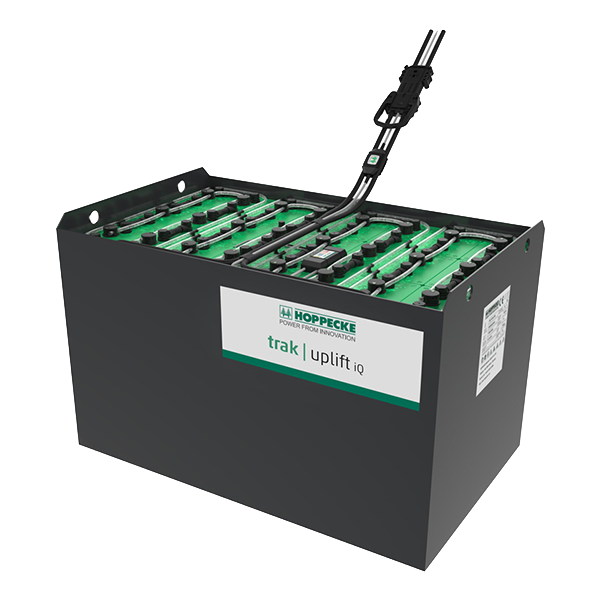 trak | uplift iQ is the highest configuration level of the new trak | uplift family. It is equipped with trak | collect, the most intelligent battery controller presently available on the market.
The highest possible energy efficiency is achieved by combining the new trak | uplift iQ with a trak | charger HF premium with adaptive charging curve. The Smart Charging function ensures minimum consumption of water and energy and is therefore especially investment-friendly.
With the aid of the Advice Satellite you always have the current battery status in view. This small measuring unit is connected to the base and shows the battery state with LED. It gives visual signals such as prompts for servicing to increase vehicle availability and operating reliability. trak | uplift iQ is Fleet Ready. This means that it communicates with the battery environment (e.g. charger, PC and vehicle) and transfers battery data. These data help to professionalise both battery and fleet management. The Pro Reporting function of trak | uplift iQ generates usage analyses which are saved by the battery for local reports or are communicated in a web-based remote monitoring system for the planning and efficient controlling of logistic processes. With up to five communication interfaces the options for use are extremely versatile. This contributes to improved economy.
HOPPECKE trak® Powerpack lion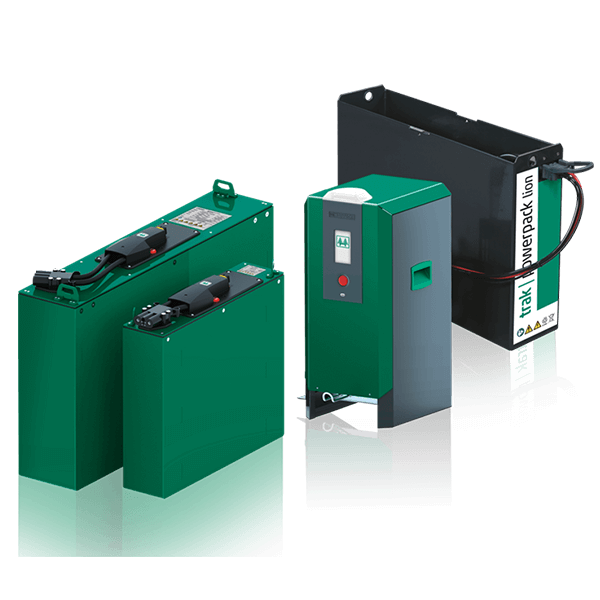 trak | powerpack lion is a highly efficient, modular lithium-ion energy system that can be installed in existing industrial trucks which were originally designed to use lead-acid batteries. No additional vehicle-specific adjustments are required. Users can choose from a wide range of 24 V, 48 V and 80 V batteries depending on the work profile and vehicle parameters. The energy system always comprises a lithium-ion battery and a corresponding charger. The design of the chargers ensures that the lithium-ion batteries are charged with maximum efficiency while also promoting careful handling of the batteries, in order to guarantee that their service life is as long as possible.
Take advantage of the smooth, reliable operation that is made possible by trak | powerpack lion.
HOPPECKE trak® trax ex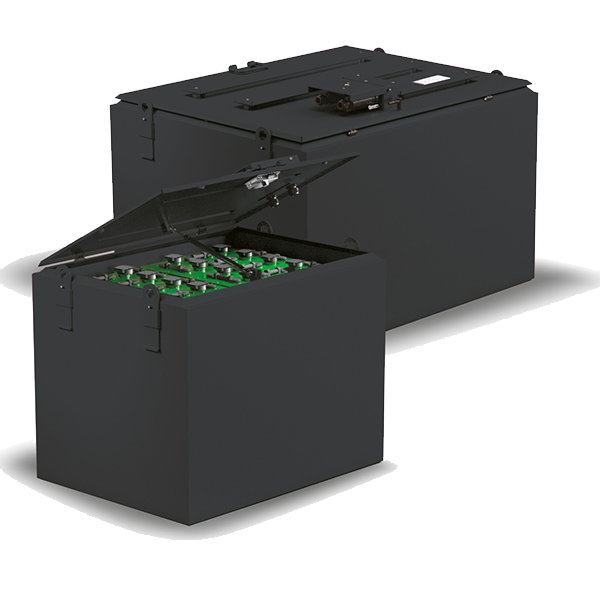 If you value maximum occupational safety and user-friendliness, then trak | ex is the right solution for you. trak | ex is certified in accordance with ATEX Directive 2014/34/EU and ensures maximum safety in potentially explosive atmospheres.
HOPPECKE trak | ex is our special battery solution for use in industrial trucks in potentially explosive atmospheres. This solution is certified and produced in accordance with EU Directive 2014/34/EU (ATEX) and guarantees maximum safety in potentially explosive atmospheres containing dust and gas. Take advantage of the maximum occupational safety and user-friendliness offered by the unique HOPPECKE tray and the HOPPECKE ex-cells. The sealed and insulated HOPPECKE terminal-cell connector system prevents electrolyte infiltration and corrosion on the terminals.
trak | ex uses an individually adapted direct current connector and a battery tray based on customer-specific vehicle dimensions. trak | ex offers a comprehensive product range for categories 2 (Zone 1 and 21) and 3 (Zone 2 and 22) up to the T6 temperature class (80°C).
By working closely with vehicle manufacturers and associations, HOPPECKE constantly develops solutions that are at the forefront of innovation – guaranteeing maximum investment security.
HOPPECKE has an extensive and specifically trained service network and is available as a competent contact partner throughout the entire life cycle of your energy storage systems.

HOPPECKE Batteries is the largest producer of industry battery systems in European ownership. Since 1927, the family company has been developing and producing in Germany, and thanks to its leading research and development activities, it has all reliable and innovative storage technologies in its product portfolio.
TAB Gel Traction Batteries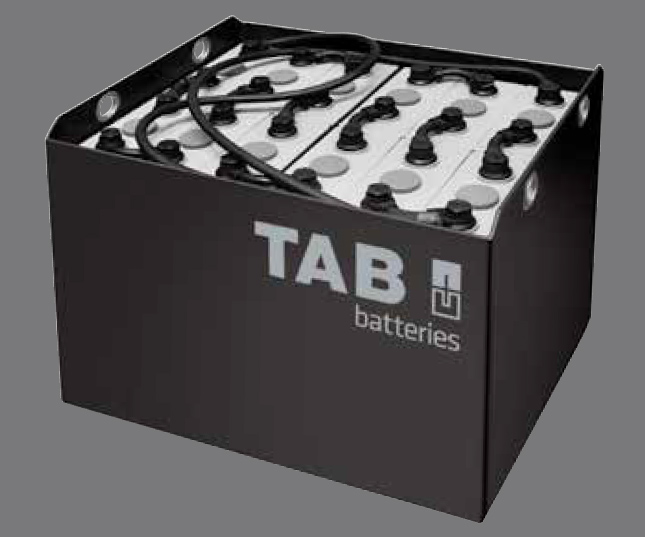 Maintenance-free TAB Gel batteries are highly sophisticated traction batteries in the family of TAB motive power products.
Sealed TAB Gel batteries are produced in VRLA Gel technology (Valve Regulated Lead Acid batteries with electrolyte in the form of gel) according to EN 60254-2 standard. They can be used in all kind of electrical appliances like forklift trucks, electric road machines, cleaning machines, etc.
Due to its high operational safety and high degree of environmental friendliness TAB Gel battery is particularly suitable for applications in pharmaceutical, food, chemical and similar industries.
TAB Lithium-Ion Batteries-Systems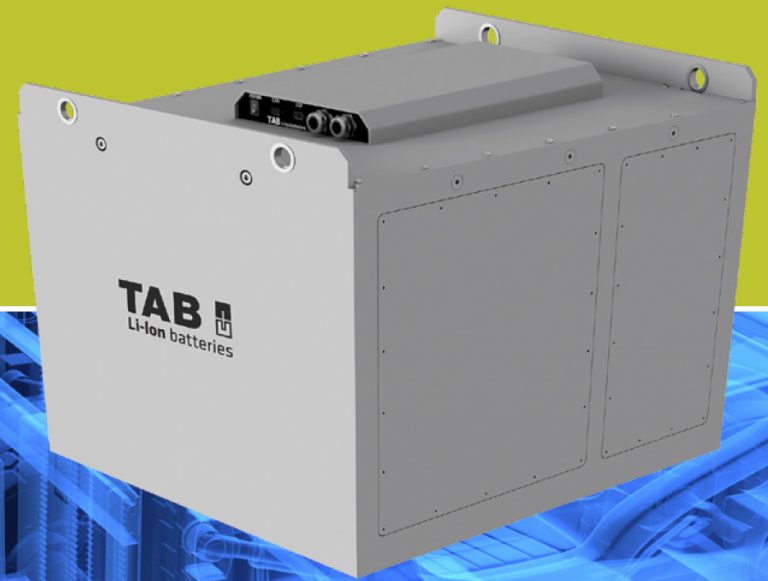 ECOLOGY & PLANET
TAB Lithium-ion batteries are designed for a sustainable future of our planet
No liquid acids in case of accidents
Smaller CO2 fingerprint
Better energy efficiency due to lower charging losses
ADVANTAGES
No need for central charging station
More flexibility to decentralized charging stations (in case with onboard charger)
No explosion hazard and no odours due to gassing
Longer operating terms and higher productivity due to fast and opportunity charging
The TAB Li-Ion battery system is absolutely maintenance free
No need for security distance to charging facilities – opens new possibilities when
planning site layout

TAB was established in 1965 as a subsidiary of Rudnik Mežica Holding (Lead Mine Mežica Holding) in a region where different lead activities are more than 350 years old. For the first 15 years TAB was a license partner of Tudor, Sweden. Currently, TAB is producing a wide range of lead acid flooded, VRLA AGM and VRLA Gel batteries in three modern factories with approximately 1,300 employees on three different locations TAB manufactures 2V motive power traction individual cells of different capacities and dimensions to build batteries which suit to all types of electrical machines. TAB Traction batteries of type PzS, PZB, BCI, PzV and PzVB are suitable for propulsion of different electrical machines (forklifts, mine locomotives, etc.). Cells are manufactured to EN60254 – 1.2 and IEC 254 – 1.2.
Lionic Lithium-ion Energy Systems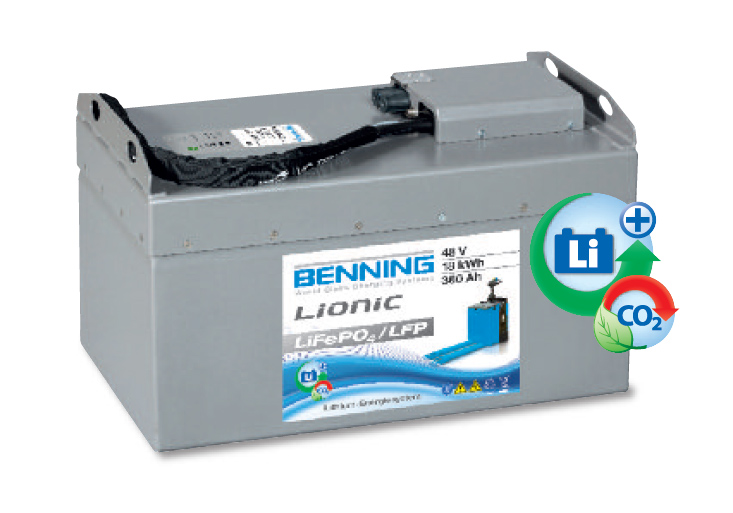 LIONIC® – the highly efficient energy system for the materials handling industry
Fast charging
Opportunity charging
Maintenance-free, no topping up with water
Low operating costs
Long life
More energy and lower costs thanks to opportunity charging
Make better use of equipment, increase cost efficiency
No need for a replacement battery
Opportunity charging possible at any time (25 % charge in 20 min)
100 % charge in 2.0 h

After formation of the company in 1938 the business was repairing electrical systems and machines. From the machine repair business todays electrical-machine-services has developed that is one of Europe's leading service centers for all types of electrical machines. Since 2012 BENNING is manufacturing BENNING LIONIC® energy systems based on lithium iron phosphate technology for materials handling industry to be used in Electrical driven Forklift and Warehousing Equipment.
DE Perfect Motive Power Battery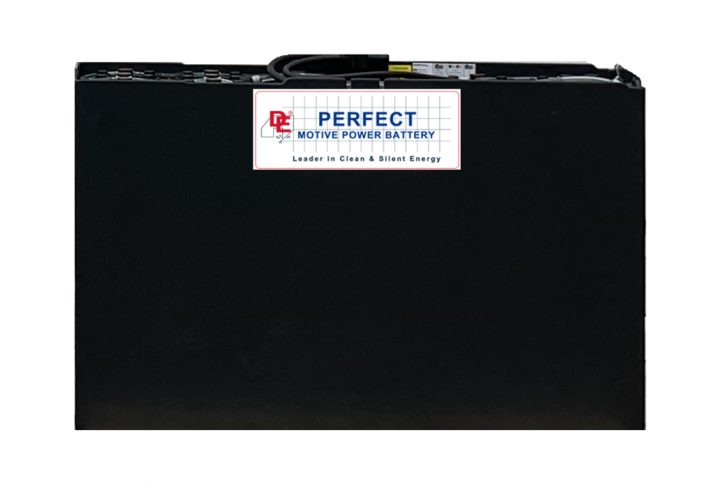 Dahbashi Engineering Motive Power industrial batteries are branded as "DE Perfect."