Crosswell Logistics Prioritizes Sustainability with Lithium-Ion Battery-Powered Machines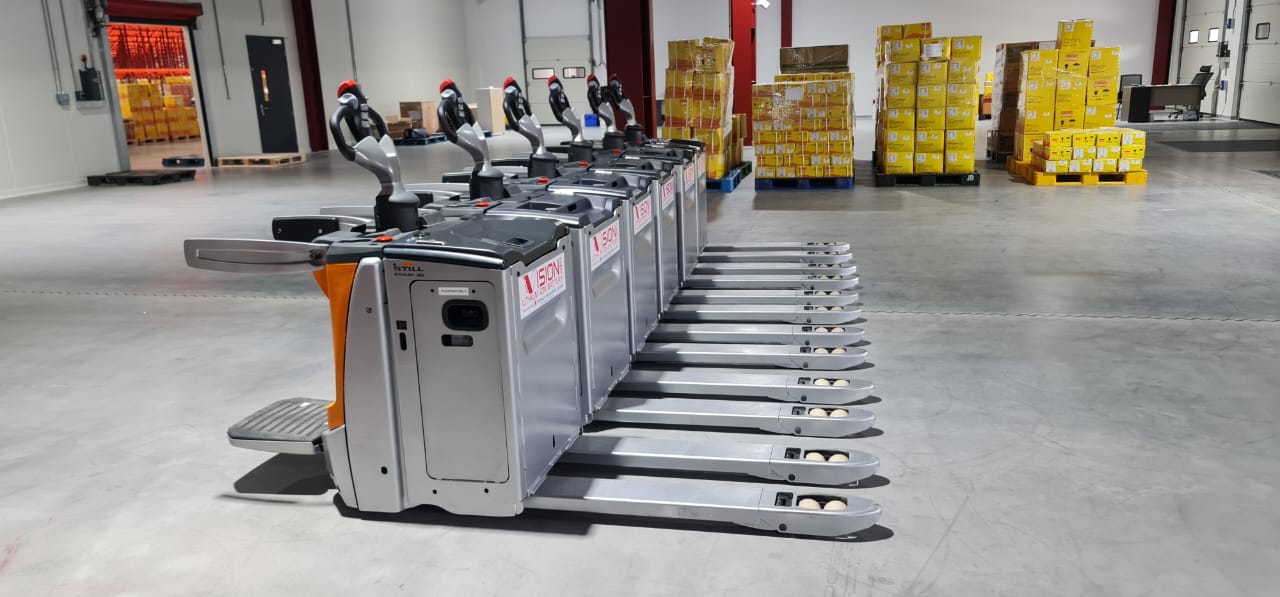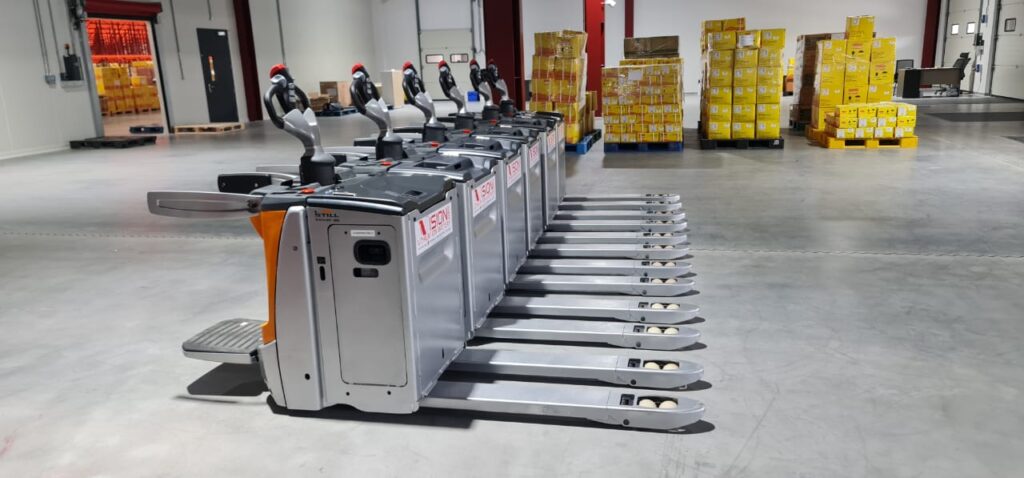 We live in an era where issues about climate change and sustainability could mean irreversible environmental damages, destruction of properties, livelihood and displacement of people and communities.
The issues are too serious to be ignored and companies like Crosswell Logistics, a fully-owned subsidiary of Jaleel Holdings that has been operating in the UAE for the past 50 years, is cognizant of these, opting to embed their operations with environment-friendly and sustainable technologies. This includes their battery-powered machines.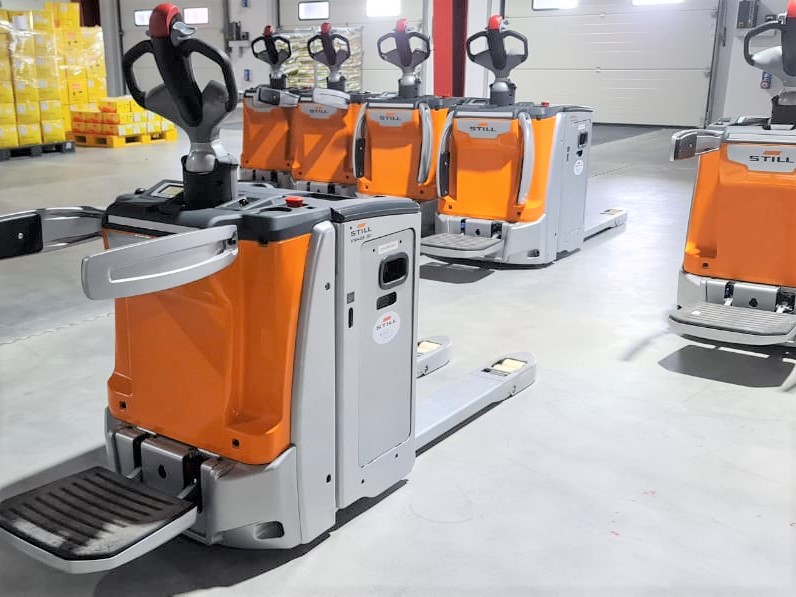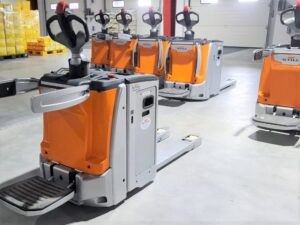 Crosswell Logistics preferred to have its 20 Material Handling Equipment (MHE) fleet that includes 15 Battery Operated Pallet Trucks (BOPT) and 5 Reach Trucks (RT) and other machines, powered by more sustainable batteries like Lithium-ion rather than the traditional Lead Acid Batteries.
Crosswell Logistics found an ally with Dahbashi Engineering in its quest to make its operations more sustainable. The logistics company is known for its innovative solutions and is the exclusive representative of Vision Group in GCC for their Lithium-ion battery systems for a wide range of applications namely for material handling equipment, cleaning machines, UPS systems, data centers, etc.
Lithium-Ion Batteries Vs. Lead Acid Batteries
Compared to lead acid batteries which require 8 to 10-hours of charging, lithium-ion batteries can be charged within 2-3 hours, resulting in 20-25% energy savings annually. It also comes with the feature of opportunistic charging during breaks without detrimental effect.
Lead Acid Batteries require a dedicated charging area with a skilled technician along with basic maintenance equipment and consumable whereas Lithium-Ion batteries can be charged with their individual chargers by the operator.
Vision Lithium-Ion batteries have the several key ben
Why Crosswell Logistics Chose Dahbashi as a Supplier Partner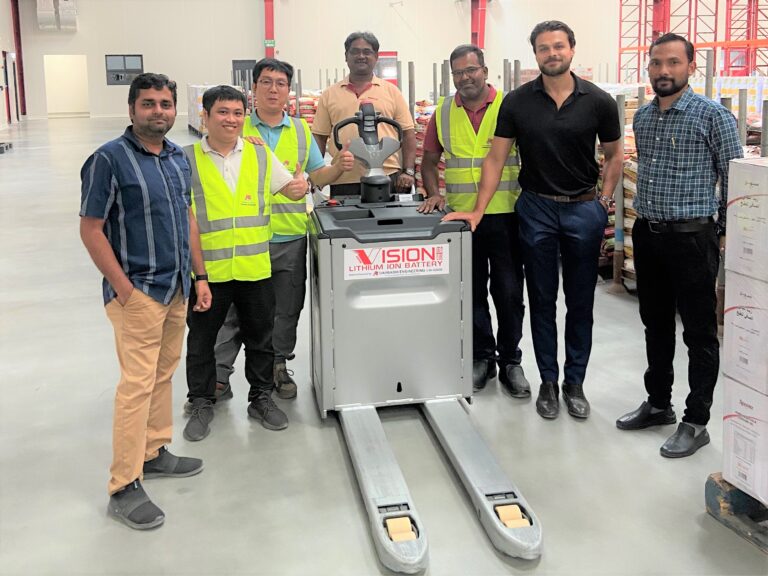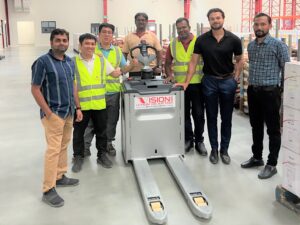 efits: faster recharge time of up to 2-3 hours from 20% State of Charge; longer life > 3500 cycles; Maintenance Free for life, and the possibility to use in 24/7operations with single battery using opportunity charging. Disposal of these batteries too are less problematic.
Deeso Manjila, Deputy General Manager at Crosswell Logistics, said, "Dahbashi was identified during the initial phase as one of the potential supplier partners for our batteries. But very soon, they emerged as a no-nonsense, flexible, seriously committed & openly communicating partner. This approach of Dahbashi, generated confidence in the minds of our Board members too."
"We feel and understand that Dahbashi always strive to be ahead with the latest trends in the technology market, especially the energy/power solutions and continue to communicate with us about these and other latest relevant trends. They also provide satisfying and delighting after sales services, multiple training sessions for operators. They have also confirmed to provide us with safe usage and handling videos (for MHEs) which we will commence streaming for training and refresher training purposes at WH for our staff."
Crosswell Takes Sustainability to Heart
Crosswell Logistics takes pride in having a bespoke "greenfield" warehouse facility designed to handle up to 37,500 tons of goods across dry, air-conditioned, chilled and frozen storage areas. According to Deeso, the warehouse was built with sustainability in mind, thus, it's just plug n play to transition into 2.5mW solar-powered facility. About 9,000 litres of condensed water produced by the ammonia plant is harvested for irrigation, sanitation and cleaning purposes. It is equipped to handle up to 80 vehicles of various capacities simultaneously with 25 MHEs and docks.
For Crosswell Logistics, sustainability is not just a buzz word alone, but also a way to a healthier, better life and more productive future – thus a better life all around.